Meet the Team
Click an instructor to view their profile.
Jim Benoit
Owner & Lead Firearms Instructor
Jim Benoit is the owner of Cajun Arms and Tuscarora Tactical Training, the educational division of Cajun Arms, founded in 2011. He is an avid hunter, shooter, and outdoorsman.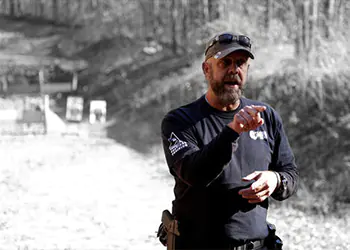 The residents of Thornbury Township, Chester County, PA elected Benoit to the position of Township Supervisor and Township Police Commissioner. Jim's interest in tactical firearms was a logical progression in his Israeli martial arts training. Jim teaches defensive pistol, rifle (all platforms) and shotgun. He also teaches target shooting and hunting marksmanship. He owns his own private range facility in central PA where he teaches. Jim conducts his classes at his range in Thompsontown, PA, Northern Chester County Sportsmen's Club in Elverson, PA, and various local ranges. Jim volunteers at Northern Chester County Sportsmen's Club and serves as their Chief Range Safety Officer. He volunteers his time to NRA Women On Target and similar youth and senior citizens events.

Jim's teaching style translates to all shooters (including beginners, men, women, and youth to experienced operators). Benoit is a student of the gun, and his lesson plans are always evolving as he seeks the latest methods and techniques to enhance his defensive classes. Jim firmly believes there is no one single method that is right for everyone. He wants his students to not only learn solid technique, but to understand why the technique is effective for that particular individual.

We are NRA Certified Instructors in Certified Advanced Pistol, Rifle, Shotgun, Personal Protection Inside the Home, Personal Protection Outside the Home, Home Firearms Safety and are Chief Certified Range Safety Officers. We are certified Instructors for DE, MD, and FL. We are fully insured.
Certifications
Federal Firearms Licence
NRA Certified Advanced Pistol Instructor
NRA Rifle Instructor
NRA Shotgun Instructor
NRA Personal Protection Inside the Home Instructor
NRA Personal Protection Outside the Home Instructor
NRA Home Firearms Safety Instructor
NRA Chief Range Safety Officer
Delaware State Certified Concealed Carry Instructor
Florida State Certified Instructor
Maryland State Instructor
ALICE Instructor (active shooter)
USCCA Instructor
PPCT LE Instructor
IPTT Pistol, Rifle
Glock, Smith & Wesson, Springfield Armorer
Experience
Army Marksmanship Training Fort Benning, GA 2007
NRA Certified Advanced Instructor in Pistol, Defensive Pistol, Rifle, Shotgun, Personal
Protection Inside & Outside the Home, Home Firearms Safety
NRA Certified Chief Range Safety Officer
ALICE Instructor
Haganah F.I.G.H.T. (fierce Israeli guerrilla hand to–hand), ongoing since 2010
Israeli Bladed weapons, ongoing since 2010
Defensive Pistol, Rifle Shotgun, various LE & private instruction
Pistol/Rifle Training, Instructor Coaching, Paul Gomez
Golani Trench Fighting, Active Shooter Response, Israeli Haganah, IPTT
IPTT (Israeli Professional Tactical Training) Pistol, Rifle
IPTT Handcuff, Haganah
Combat Medic, 10 Minute Medic
PPCT pressure points, handcuffing, baton, pepper spray Instructor
Stop the Bleed
Our Happy Clients
Upper Darby Police
PA State Police
WEGO Police
West Chester SWAT
West Vincent Police
Brookhaven Police
US Air Force 193rd Security Forces
Pre and post deployment US Marines, Army, Navy, and Air Force
Nick Benoit
Manager & Lead Firearms Instructor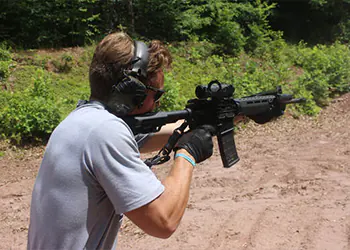 Nick brings youth and athleticism to our cadre of instructors at Cajun Arms. He was certified as an instructor in 2020.

Nick graduated from Mount Saint Mary's University and plays Division 1 Lacrosse at close defense and LSM. He is now a grad student, still playing lacrosse at Lander University in SC. Nick has been shooting since he was 9 years old. His safety and gun handling is on par with someone much older. Being a student and playing college sports is a full time job in itself, but he helps with classes during breaks in the school year as well the summer. Nick is a second degree black belt in Tang Soo Do and has extensive experience with hand -to-hand and well as all three platforms of firearms. Nick's conditioning and discipline in strength and speed training translates well to many of our students and he a tremendous help instructing in our classes.
Experience
NRA Certified Pistol Instructor
2nd degree Black Belt Tang So Du
Extensive Israeli open hand training
Successfully completed all classes at Cajun Arms at least once
Stop the Bleed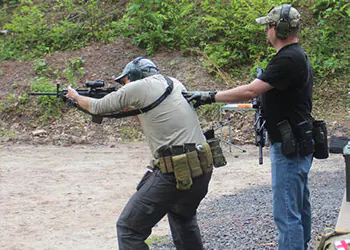 Tom
Firearms Instructor
Tom brings an extremely practical methodology to the Cajun Arms cadre of instructors. With years of hands-on experience in both military and law enforcement, Tom blends his style perfectly for the civilian student.

While he has the patience and teaching skills to help the brand new shooter, he helps us out primarily with mid-level and advanced courses. He is a certified NRA Instructor and CRSO.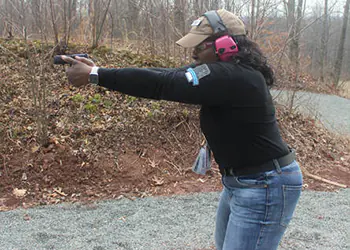 Anna Cousins
Firearms Instructor
Anna joined Cajun Arms cadre of excellent instructors in 2022. She is a tremendous help with our classes.

Her teaching style translates well to all shooters, new and experienced. Patience and strict adherence to safety are just a couple of her teaching attributes. Anna holds NRA Instructor Certification in Pistol, Rifle, Shotgun, Personal Protection Inside & Outside the Home, and Concealed Carry Weapons ( CCW) She is also a NRA certified Range Safety Officer.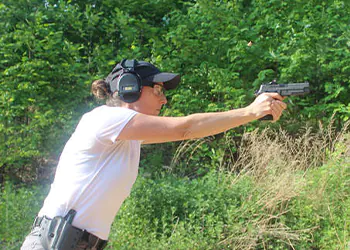 Laura James
Firearms Instructor
Cajun Arms is fortunate to count Laura James among our cadre of experienced firearms instructors. She has been teaching firearms skills full time since 2008.

Laura co-instructs with Jim Benoit at medium and large sized open enrollment classes, and runs special classes for Cajun Arms.

Laura has a special talent for one-on-one instruction. Her teaching style and patience allow her to reach new shooters both young and old as well as all ages in between. Laura teaches all three major disciplines of firearms, both for pleasure/target shooting as well as defensive skills with all platforms.
Experience
NRA Certified Pistol Instructor
NRA Certified Rifle Instructor
NRA Range Safety Officer
Defensive Carry 1 -4
Defensive Pistol, Rifle, & Shotgun Instruction
Stop the Bleed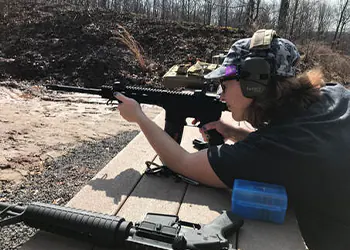 Holly Allen
Range Safety Officer (RSO)
Holly Allen is an asset to the Cajun Arms training staff. She's been shooting for over 10 years & proficient with both rifles and pistols. Holly is an NRA Range Safety Officer and has been a student of Cajun arms in numerous classes including rifle, defensive carry, and low light pistol.

Her patience and pleasant demeanor make her an asset for classes geared towards entry level, novice, and new shooters but her experience as an RSO makes her capable of keeping a range safe and organized for all levels of shooters. As a bonus, Holly is a mother of 3 who daily carries so she brings an interesting perspective for those looking to both understand and get more involved with firearms.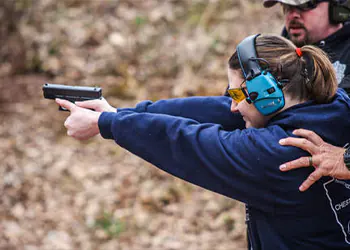 Tammy Kemp
Range Safety Officer (RSO)
Tammy is a certified NRA Range Safety Officer. She helps keep the class running smoothly and safely. Tammy has grown up around guns and takes her training seriously. She has taken our Defensive Carry Pistol classes starting with a SIRT Clinic in 2017, Defensive Carry Pistol levels 1.0 to 5.0, NRA Defensive Pistol, Defensive Shotgun, and Stop the Bleed. Her perspective and safety protocol are an asset to our classes.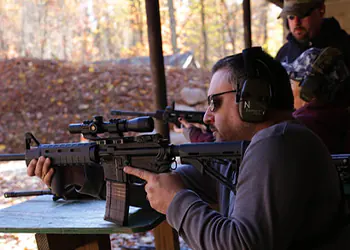 Neal Kaufman
Range Safety Officer (RSO)
Neal recently earned his NRA Range Safety Officer Certification. He ensures that all safety protocols are observed and helps keep the class running smoothly. Neal trained as a student with Cajun Arms since 2013 and completed all of our classes at least once. He also shoots left handed and is a big help to our students that use their "wrong" hand!