Host A Private Firearms Class
Private Firearms Lessons
We have serviced PRIVATE LESSONS, PRIVATE GROUPS, HOUSE OF WORSHIP SECURITY AND MORE! Your private class can be hosted in Elverson, PA or at your local range. We work with students in a private setting in addition to our open enrollment classes. These lessons can be one-on-one, couples, friends, or families. Private sessions are also a great way to introduce youths to the shooting sports in a safe and controlled environment.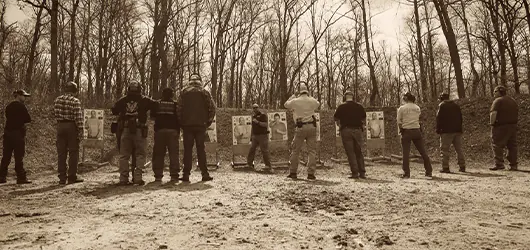 For students new to shooting, we recommend a session at our office in West Chester or at your home. No shots are fired. We go over the essential safety rules of firearms handling using training guns and real, unloaded guns. We then utilize laser training guns to teach, stance, grip sight picture, and trigger control. The training guns only shoot lasers but are very realistic. We also introduce a proper draw. After this lesson, students are more than prepared to advance to the range with us and shoot live rounds.

Our private live-fire sessions have a two hour minimum. We can meet in Elverson, PA, Thompsontown, PA, or your range.

Cajun Arms also will train you in your home with your family. We utilize the laser training guns and develop a plan for your specific situation. Having this plan is just as important as having a fire emergency plan and becomes part of your overall family safety plan. When all family members know their role, the chance of survival exponentially increases.

A 50% deposit is required to book your private class.
Ask a Question
Team Building, Corporate Outings, and More!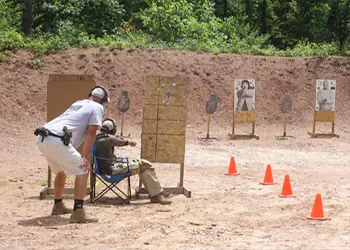 Are you looking to host a private firearms class for your team building session, your corporate outing, your best man's bachelor party, your bride's maid bachelorette party, birthday party, or special event? Then look no further! Cajun Arms is a great way to spend a half or full day for your special occasion.

We can make it as simple or elaborate as you choose. We help coordinate details such as lunch or dinner, additional motivational speakers at lunch or dinner, gun and equipment rentals and more. We can teach either one of our standard curriculums, a blend of several, or something totally custom to your needs! Just tell us about your goals and Cajun Arms will make it happen!

Bachelor and Bachelorette groups are also popular. A Cajun Arms private training session also makes a great birthday or Holiday present for that special someone. Just don't forget - classes are held regardless of weather!
Reach Out
House of Worship Security Training
We work with many Houses of Worship from all faiths. Our goal for all such training is for the team to have the ability and skills to: on command, in a crowded environment, track and eliminate any threat to life or grave injury in the shortest amount of time. We train your team to provide aid and stop bleeding, communicate with law enforcement (LE), transition from threat eliminators to "suspects" by LE.


Service we provide:
Provide an assessment of team members skills. Our training will bring the skills of the weakest link up to par with the rest of the group. Our training conceits exacting performance under pressure where innocents in a crowded environment will not be at risk.
Once advanced skills are proven, we train in "crowded" scenarios and various shoot, don't shoot scenarios. We identify the "team leader" at this point. This person's role is threat elimination while reducing collateral damage, without regard to rendering aid or communication.
When the team demonstrates advanced skill in crowded environments, we encourage on site training in the house of worship utilizing laser training pistols.
We request the team to practice at least bi-weekly.
We also encourage team members to qualify at least twice a year with us. If a member is unwilling or unable to qualify, we recommend moving them to a non-lethal role of the team.
Get in Touch
Tuition Deposit Policy
We typically fill our classes and turn students away as the class date nears. Be sure you can attend the class date for which you sign up. Should you become unable to attend a class, you can use your deposit for another class offered within one year of the original class date provided you give at least 72 hour notice to us. We will subtract any upfront costs we incur such as class materials from the deposit. Cancellations shorter than 72 hours and no shows forfeit their deposit. Thank you. NO REFUNDS.