Pistol & Revolver Gunsmithing Services in West Chester, PA
New Iron Sights/Night Sights Pistol Installation
Cajun Arms has a wide variety of aftermarket sights for your handgun from manufacturers such as Ameriglo, Trijicon, Meprolight, and more! Many times we install your sights at no charge when you purchase your sights from us (dependent on gun model). We can install your provided sights as well. We use the latest sight pushers and ensure your gun is not marred and the sights centered. Contact us for a quote and to schedule an appointment at our shop in West Chester, PA.
Get in Touch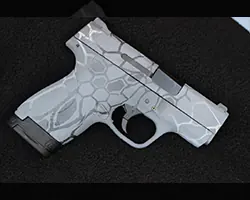 Pistol Trigger Enhancement
Cajun Arms can rework the trigger on your pistol or revolver. We have the experience to ensure the trigger job will meet your expectations. We generally do not recommend changing the trigger or action much on stock self-defense handguns. We strongly feel that you should not have a light trigger for self-defense despite what the YouTube ninjas may say. Target and competition guns are a different story. We have a method for Smith & Wesson Double actions that make the trigger a pleasure! Contact us for recommendations for trigger enhancement, trigger gunsmithing, or lightening your pistol's trigger.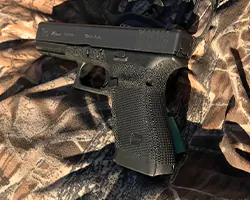 Deep Detail Pistol Cleaning
After a period of time and rounds down range, every handgun needs a good washing beyond a simple field strip. Cajun Arms will detail strip your gun down to the frame and get in all those nooks and crannies that have been neglected. We then lubricate all required parts with high-quality lubricants and reassemble your pistol. Overall performance and reliability will be yours to experience. If required, we can also do pistol and revolver cleaning tutorials to help you properly (and safely!) clean, lube, and reassemble your firearm. Accidental gun discharges can occur when cleaning a firearm so do not hesitate to request a cleaning tutorial so you learn how to do it the right way - safety first!
Ask an Expert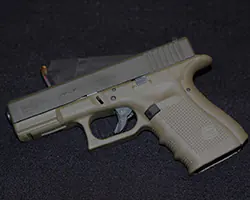 Red Dot Pistol Sight Installations
Cajun Arms does not cut slides for Pistol Red Dot Optics. At this time, we find it more economical and smarter to order a new slide that is cut for your pistol if one is available. We will make recommendations for all the necessary parts to get your red dot sight on your pistol including optics, slides, and sights. Keep in mind that taller suppressor iron sights are needed to use your irons as a reliable backup. However, once the new slide is set up, you essentially have two guns in one! You can easily go back and forth between iron sights and red dot sights. Give us a call for a consultation at our West Chester gunsmithing shop, and we can price and plan your red dot project.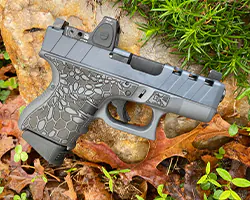 Clearing Pistol Barrel Blockages
and Major Malfunctions
If you ever experience a major malfunction or barrel blockage give us a call. We can clear your gun and ensure it is in good functioning condition. If it is not, we can make recommendations as to whether it should be repaired by us or the manufacturer. Oftentimes, it makes sense just to repair or replace various pistol parts here at our shop in West Chester, PA. Depending on the issue, it may even save you money and make more sense to send it back to the manufacturer. We will help you make the best decision for you - even if that means sending it back to the manufacturer. Make sure you call in advance to schedule an appointment with Cajun Arms and be sure to inform us that you are bringing a potentially loaded weapon to our shop.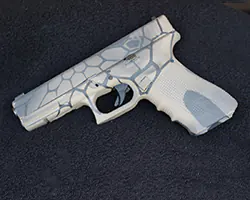 General Pistol Repairs
If you have a broken this, that, or the other thing - have no fear - Cajun Arms is here to help! Our pistol repair estimation and audit services can handle your project. We can take a look to help you decide what your best course of action is. We can handle springs, triggers, a broken sight, a cracked grip, and more here at our Chester County gunsmithing shop. Whether the repair is small or large, we are here to get your gun up and running. Safety is always our priority. We do give priority to carry pieces and want to get your situation repaired in a timely manner. Parts and shipping are a little better these days, but keep in mind shipping speeds can affect your timeline. We will do our best to keep you informed of your total pistol repair cost, keep things affordable, help determine a timeline, and help you make the best decision for you. Please do not hesitate to reach out if you have any questions.
Ask a Question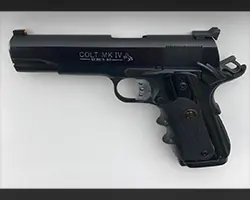 Pistol Stippling
Stippling can be an aesthetic enhancement, a grip enhancement, or both. The practicality of stippling is to provide an improved grip on your firearm, especially under wet conditions from your hands being slick from sweat, mud, etc. Stippling creates grooves and craters in the polymer for liquid to run and the raised edges of the stippling provide traction for your hands. An improved grip leads to better control and recoil management. The ability to properly grip a handgun leads to faster and more accurate shot strings. We offer numerous textures and patterns. Design work is also available. Please feel free to contact us to set up an appointment or see what options are available.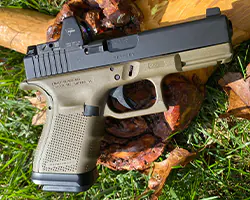 Cerakote Custom Pistol Gun Finish
Protect and personalize your firearm all at the same time with a Cerakote custom gun finish. We can paint patterns, camouflaging or just a single color. Cajun Arms can completely customize your gun with dozens of different colors. Coating your gun will make it look like new and offer impact and heat resistance, finish hardness, corrosion prevention, and chemical resistance. Cerakote is as tough as your firearm. You can have us completely strip and reassemble the gun or you can bring it to us after you strip it. Contact us today for a quote.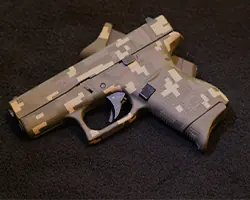 Antique Pistol Restoration
Cajun Arms can restore or refurbish your old firearms. You may have this old gun, and you may wonder what it's worth. You may ask yourself, "should it be refinished, restored, cleaned, or left as is?" The decision may seem daunting, but with good information, you will be able to make the choice that's right for you. We will value your piece and make determinations and recommendations from there. Age alone does not determine value: condition, rarity, provenance, and desirability to collectors determines the value. Many times, just a very light cleaning is recommended as to not remove the patina and/or what remains of the original finish. Stabilizing rust is an important part of the process. We can help you with every aspect of your antique pistol or revolver restoration at our shop in West Chester, PA. Contact Cajun Arms for an assessment - don't guess!
Gunsmith Appointment