Rifle Gunsmithing Services in West Chester, PA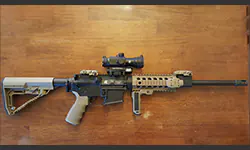 Rifle Optic Mounting
When you purchase your firearms and optic at Cajun Arms, we typically mount your optic at no charge! Kindly note, there are some extenuating situations. We only use the highest quality mounts, rails, rings, etc. We properly align and lap your rings. We torque all screws to the precise manufacturer specifications for your rifle/optic. Cajun Arms laser bore sights your gun to ensure you will be on paper and can conserve ammo when performing final sight-in at the range. When it comes to rifle optic mounting in West Chester, PA, there is no one that will give you the same, quality experience as the experts at Cajun Arms! Contact our West Chester office today to get started.
Get in Touch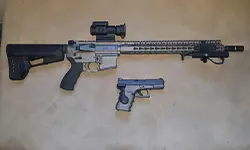 Sighting In Rifle Optics
Cajun Arms can sight your rifle in for you at our rifle gunsmith shop in West Chester, PA. Don't have access to a range? Are you too busy? No matter the reason, we can help! We will take your rifle to our range and dial it in perfectly for you. Please note that the owner may need to supply ammunition for unusual or hard-to-find calibers. Another consideration is that the point of impact can be affected by poor trigger control, cheek weld, etc. We are firearms experts, professionals, gunsmiths, and actively train citizens in safe, defensive firearm classes. That same level of professionalism will be utilized on your firearm so you know there are years of experience behind sighting in your optic.
Replacing Uppers & Rifle Barrel Replacements
Do you want to shoot 458 SOCOM, 300 Blackout, or some other cartridge out of your AR15 or AR10? Cajun Arms can help by selecting and assembling components that will meet your needs, all while keeping your existing lower receiver and parts. We can also replace your rifle barrel if it's shot out, and we can even completely change the caliber of your rifle! Contact us to discuss your specific needs/goals, and we can set you up with a new barrel or help you make two guns in one!
Ask an Expert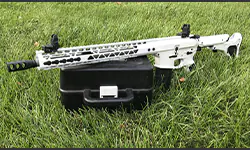 Cerakote & Painting
We can protect and personalize your rifle with a Cerakote custom gun finish. We can paint patterns on your rifle, add camouflaging to your rifle, or - if you want to keep it simple - apply a single color to your rifle. With dozens of colors and color-combos to choose from, we can completely customize your gun to truly make it one-of-a-kind. Coating your rifle will make it look like new and offer impact and heat resistance, finish hardness, corrosion prevention, and chemical resistance. Cerakote custom rifle finishes are as tough as your firearm. Based on your comfort level, Cajun Arms can completely strip and reassemble the gun or you can bring it to us after you strip it. Either way, contact us today for a quote on personalizing your rifle at Cajun Arms!
Free Float Barrels/Glass Bedding
Are you looking to wring out more accuracy out of your rifle? One great way to achieve the gun's maximum potential is bedding the action and free-floating the barrel. Let Cajun Arms tweak it up. We use an epoxy-based material and mold it on the rifle stock to fill in any gaps that exist between the stock and the receiver. We utilize metal plates for the action screw if we can as well. We create a stiffer action for your rifle and prevent it from deforming under pressure. The harmonics of your weapon are improved, and a repeatable, neutral stress is more likely.
Ask a Question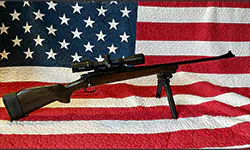 Rifle Handguard or Forend Replacement
Do you have an outdated, old-school AR platform? Does the rifle shoot well? Then let Cajun Arms set you up with a new forend. We will remove your front sight post/gas block and install a new low-profile block. We will help you select the proper length flat top forend and install it. Cajun Arms will pop on some new iron sights and you have a rifle with an entirely different feel and look!
New Rifle Stock Replacement
Here at Cajun Arms, we love to work with wood (and plastics). We can take your worn-out rifle and re-stock it with a modern laminate or composite stock. Want to have your daddy's old Remington 700 accept detachable mags? Let us set you up with a modern solution that will probably have you shoot better too! Most new stocks will include free floating the barrel and having the action fully bedded. See above.
Rifle Trigger Enhancement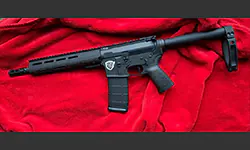 Allow Cajun Arms to help you take your shooting to a new level. We can perform trigger work on many styles of rifles. Often, a new cartridge or assembly is a smarter choice than using the old trigger as a starting point. If you're not a trained gunsmith, we'd advise that you do not work on or change your existing trigger in any way. At best, you'll damage the part, cause it to wear out more quickly, and void the warranty. At worst, you can create a point of failure that can lead to an inert rifle or one that is prone to misfires. In either case, you've created a safety hazard that puts everyone at risk any time you use your rifle. The professional gunsmiths at Cajun Arms in West Chester can help with your rifle trigger enhancement. Contact us today.
Send A Message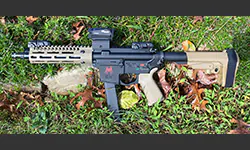 Deep Detail Rifle Cleaning
After a period of time and rounds down range, every rifle needs a good washing beyond a simple field strip. Cajun Arms will detail strip your gun down to the frame and take care of all of those nooks and crannies that have been neglected. We then lubricate all required parts with high-quality lubricants and reassemble your rifle. Overall performance and reliability will be yours to experience. We also offer safety and informational tutorials on how to clean your unique rifle yourself. No matter your rifle cleaning needs, contact Cajun Arms today.
Clearing Rifle Barrel Blockages and Major Malfunctions
If you ever experience a major malfunction or barrel blockage with your rifle give us a call. The professionals at Cajun Arms will clear your gun and ensure it is in proper functioning condition. Safety is our priority. If your rifle is not functioning properly, we can make recommendations as to whether it should be repaired by us or the manufacturer. Oftentimes, it makes sense to repair your rifle at our West Chester gunsmith shop. Other times, replacement may be the best course of action to repair your rifle. Depending on the issue, sending your rifle back to the manufacturer may actually be the best course of action and save you money in the process. Regardless of your rifle gunsmith issue, give the experts at Cajun Arms a call. We can schedule your appointment and take a look at your rifle. If you are bringing a potentially loaded weapon/firearm to our shop, you must call in advance for our safety and yours. Reach out today.
Get A Quote
General Rifle Repairs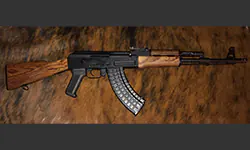 Rifle repairs can be a tricky business at times, and when safety is paramount, hiring a professional may be the best option. The gunsmiths at Cajun Arms are trained to safely assess and repair your rifle. We handle a variety of fixes from springs, triggers, broken sights, cracked grips, and much much more. From small tweaks/repairs, to medium sized replacements, to large rebuilds and more, Cajun Arms can get your rifle up and running to your exact specifications. If your rifle needs to be fixed urgently, we will take into account your situation and get your rifle repaired in a timely manner. We are sometimes limited by the shipping speeds of parts, but we will do everything possible to meet your delivery timeline. Reach out to a member of our team today to schedule an appointment at our shop in Chester County, PA.
Antique Rifle Restoration
Cajun Arms can restore or refurbish your antique rifles. If you have an older rifle and you are not sure what it is worth, please contact us. We can help you determine whether it should be refinished, restored, cleaned, or left as is. Depending on your rifle, making all these decisions can be difficult, but the antique rifle gunsmiths at Cajun Arms in West Chester are here to help. We will examine your antique rifle, help you determine its value, and make recommendations from there. Collectors are after value above all else, age is not always the biggest factor. They also take into account your rifle's condition, rarity, provenance, and overall desirability to determine its estimated value. We have seen many antique firearms and rifles that just require a light cleaning and nothing else! Light is the keyword here as we do not want to remove the patina - or what remains of the original rifle's finish. Another crucial task we will perform as part of our rifle restoration process is to do what needs to be done to stabilize rust. Let's take the guessing out of antique rifle restoration and contact us for an assessment today!
Gunsmith Appointment