Shotgun Gunsmithing Services in West Chester, PA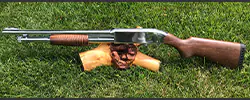 Shotgun Recoil Pads
Shotgun doesn't mount well? Is the recoil punishing you? Starting to flinch? Let Cajun Arms help you get a proper length of pull and reduce that recoil. We will fit you and ensure that you have the correct length of pull. Cajun Arms will modify your existing stock as needed and install a custom-fitted shotgun recoil pad. The pad will cushion your shoulder more than your stock and allow you to obtain a proper cheek weld. This work will improve your overall comfort and confidence!
Get in Touch
Deep Detail Shotgun Cleaning
Every firearm needs a good cleaning every now and again - and shotguns are no exception! As time presses on and more rounds get sent down range, your shotgun will need a deep cleaning. We go beyond a simple field strip, and deep clean your shotgun. Going down to the frame, we get all of the nooks and crannies of your shotgun that may have been neglected during field stripping or prior cleaning. As part of our shotgun cleaning, we always lubricate all the parts that require lubrication and only use tested, high-quality lubricants. A properly cleaned and maintained shotgun is required to offer reliability and performance you can count on. If you would like some pro-tips on cleaning your shotgun, we offer shotgun cleaning tutorials so that you can get to know your shotgun and feel more comfortable cleaning your own firearm at home. When excellence is required, contact Cajun Arms! Our gunsmith shop in Chester County is only a phone call away.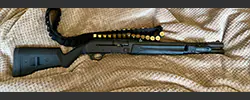 General Shotgun Repairs
When it comes to general shotgun gunsmithing repairs, contact Cajun Arms. Our team of experts can help diagnose and correct your shotgun's specific issue. We have a variety of parts handy and in stock to promptly fix your shotgun. We can fix springs, triggers, broken sights, cracked grips, and much much more. If we do not have a part in stock, we can have it shipped to us with priority to make sure we get your shotgun back to you in a timely manner. Kindly note, that some parts/materials take longer than others and we are limited by certain manufacturers/vendors shipping speeds. Nonetheless, we understand the need to return your shotgun to you as quickly as possible. Please contact us or see a gunsmith associate for details concerning your repair.
Ask an Expert
Cerakote & Painting
We can paint camouflage on your shotgun, simple solid colors, or a special pattern on your shotgun. But when it comes to painting and customizing the look of your shotgun, a Cerakote custom shotgun finish is the way to go. We offer a range of colors to choose from. Coating your shotgun will make it look like new and offer additional benefits such as heat resistance, finish hardness, corrosion prevention, and chemical resistance. Cerakote is as tough as your firearm. You can have us completely strip and reassemble your shotgun or you can bring it to us after you strip it. Contact us today for a quote on customizing the color/camo/paint of your shotgun.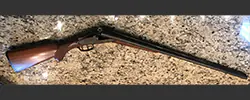 Antique Shotgun Restoration
Are you looking to restore or refurbish your old or antique shotguns? Cajun Arms has the knowledge, expertise, and tools to do the job right. Often, a light cleaning is the only recommendation for some antique shotguns. We take special care to not remove the patina or what remains of the original finish. Another crucial step in the restoration process is stabilizing rust. We can help you determine your shotguns' worth, the best course of action to repair/replace/clean/refurbish, or leave the shotgun as it is! This decision can be heavy sometimes but that's why the professionals at Cajun Arms are here to help. We will work with you and your antique shotgun to determine its value based on methods collectors use to do the same. This includes analyzing the condition, rarity, provenance, and demand for that shotgun. We perform our assessments in West Chester, PA. Contact us today to get started and schedule an appointment.
Gunsmith Appointment