Item Availability:
If you don't see what you are looking for in stock, contact us for a quote. Cajun Arms can order what you are looking for and can have it for you in two days! We can also special order hard to find items for you!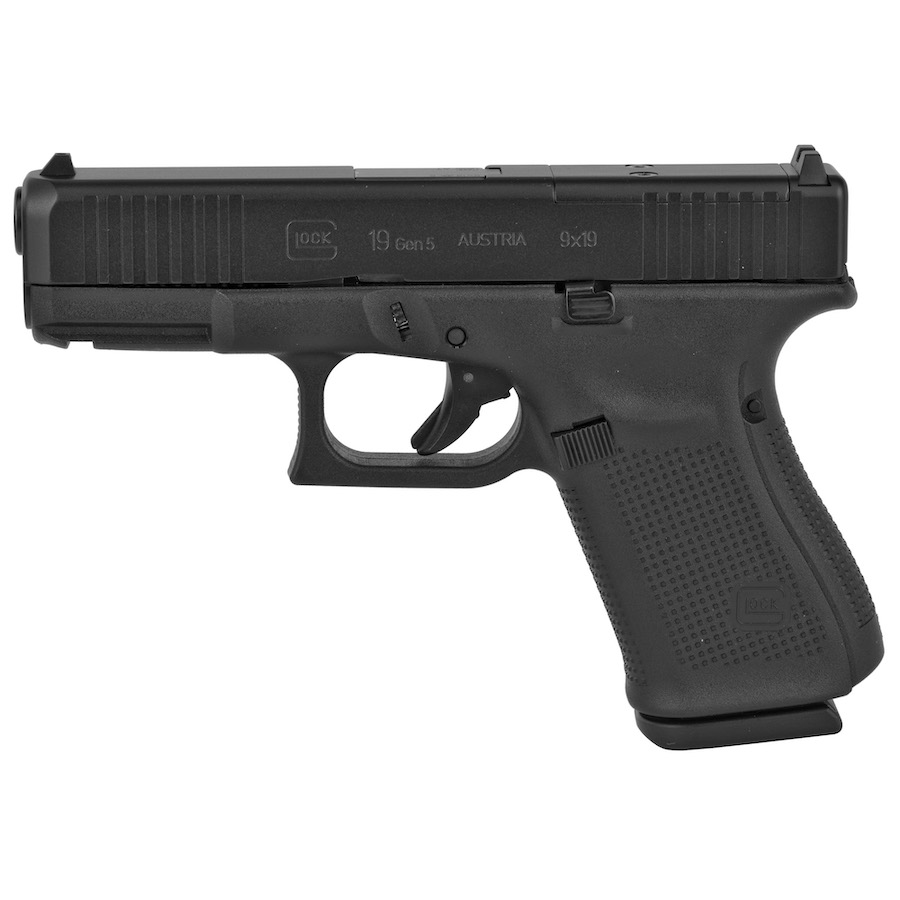 Glock, 19 Gen5 M.O.S.
New
Product Summary
Glock, 19 Gen5 M.O.S., Striker Fired, Compact Size, 9MM, 4.02" Marksman Barrel, Polymer Frame, Matte Finish, Fixed Sights, 15Rd, 3 Magazines, Front Serrations, Ambidextrous Slide Stop Lever, Flared Mag Well, nDLC Finished Slide and Barrel, No Finger Grooves. With the G19 Gen5 MOS FS GLOCK enhances the desirability of the already near-perfect Gen5 model with the addition of the Modular Optic System (MOS). The slide is precision machined to provide a mounting system for popular optic sights. With multiple adapter plates, you can quickly and easily mount miniature electronic sights to the rear of the Gen5 GLOCK slide, which has front serrations for easier and quicker manipulations. All of the Gen5 qualities are present in this compact-size pistol: The latest GLOCK nDLC surface finish on the major metal components, unmatched in hardness and rust resistance; the high traction Gen5 frame texture, quickly reversible magazine catch, ambidextrous slide stop lever, the GLOCK Modular Backstrap System (MBS) for individual operator adjustability, the universally-acclaimed GLOCK Safe Action System and high visibility orange magazine followers. Includes three 15-round magazines.
This Glock, 19 Gen5 M.O.S. is available at our shop in West Chester, PA for pick up or delivery to your nearest FFL! Contact us today to reserve it and make an appointment to pick it up.
All Product Details
| | |
| --- | --- |
| Product ID | 50163 |
| Name | Glock, 19 Gen5 M.O.S. |
| Main Category | Handguns |
| Additional Categories | |
| Condition | New |
| Description | Glock, 19 Gen5 M.O.S., Striker Fired, Compact Size, 9MM, 4.02" Marksman Barrel, Polymer Frame, Matte Finish, Fixed Sights, 15Rd, 3 Magazines, Front Serrations, Ambidextrous Slide Stop Lever, Flared Mag Well, nDLC Finished Slide and Barrel, No Finger Grooves. With the G19 Gen5 MOS FS GLOCK enhances the desirability of the already near-perfect Gen5 model with the addition of the Modular Optic System (MOS). The slide is precision machined to provide a mounting system for popular optic sights. With multiple adapter plates, you can quickly and easily mount miniature electronic sights to the rear of the Gen5 GLOCK slide, which has front serrations for easier and quicker manipulations. All of the Gen5 qualities are present in this compact-size pistol: The latest GLOCK nDLC surface finish on the major metal components, unmatched in hardness and rust resistance; the high traction Gen5 frame texture, quickly reversible magazine catch, ambidextrous slide stop lever, the GLOCK Modular Backstrap System (MBS) for individual operator adjustability, the universally-acclaimed GLOCK Safe Action System and high visibility orange magazine followers. Includes three 15-round magazines. |
| Payments | Listed prices are for cash or check. Credit Cards add 3% to your total. |
| Returns | No returns are accepted. Please contact customer support if you have any questions. |
| Shipping | We will only ship guns within the continental USA to federal firearms licensed (FFL) dealers only. We do NOT sell to any FFL dealers located in CA, IL, NY, or MA. Additional shipping and handling fees may apply. |
| Age | We will comply with all federal and state purchasing regulations. You must be over 18 years of age to purchase a firearm. You must be 21 years or older to purchase a handgun. |