Item Availability:
If you don't see what you are looking for in stock, contact us for a quote. Cajun Arms can order what you are looking for and can have it for you in two days! We can also special order hard to find items for you!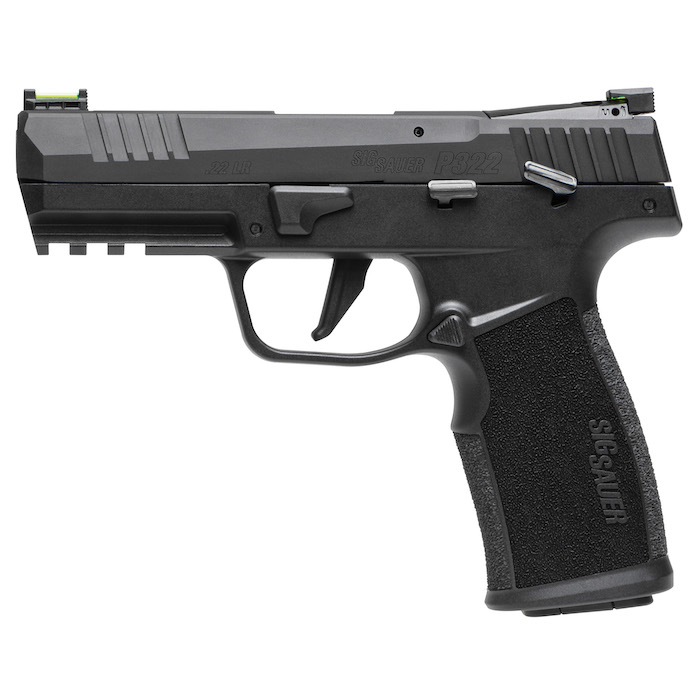 Sig Sauer, P322
New
Product Summary
Sig Sauer, P322, Semi-automatic, Single Action Only, Polymer Frame Pistol, Full Size, 22 LR, 4 Barrel", Anodized Finish, Black, Adjustable Fiber Optic Sights, Optic Ready, Threaded Barrel Adapter, 20 Rounds, 2 Magazines. The new P322 was completely designed and built by SIG SAUER in New Hampshire and is loaded with premium features, including an optic-ready removable rear sight plate so you can easily add a ROMEO Zero red dot optic (optic not included) without the use of adapter plates. The P322 also comes with a threaded barrel adapter making it suppressor ready right out of the box, and with its ambidextrous controls, interchangeable flat and curved triggers, and fiber optic front and rear sights the new P322 is the highest capacity, most advanced 22 pistol in its class.
This Sig Sauer, P322 is available at our shop in West Chester, PA for pick up or delivery to your nearest FFL! Contact us today to reserve it and make an appointment to pick it up.
All Product Details
| | |
| --- | --- |
| Product ID | 50129 |
| Name | Sig Sauer, P322 |
| Main Category | Handguns |
| Additional Categories | |
| Condition | New |
| Description | Sig Sauer, P322, Semi-automatic, Single Action Only, Polymer Frame Pistol, Full Size, 22 LR, 4 Barrel", Anodized Finish, Black, Adjustable Fiber Optic Sights, Optic Ready, Threaded Barrel Adapter, 20 Rounds, 2 Magazines. The new P322 was completely designed and built by SIG SAUER in New Hampshire and is loaded with premium features, including an optic-ready removable rear sight plate so you can easily add a ROMEO Zero red dot optic (optic not included) without the use of adapter plates. The P322 also comes with a threaded barrel adapter making it suppressor ready right out of the box, and with its ambidextrous controls, interchangeable flat and curved triggers, and fiber optic front and rear sights the new P322 is the highest capacity, most advanced 22 pistol in its class. |
| Payments | Listed prices are for cash or check. Credit Cards add 3% to your total. |
| Returns | No returns are accepted. Please contact customer support if you have any questions. |
| Shipping | We will only ship guns within the continental USA to federal firearms licensed (FFL) dealers only. We do NOT sell to any FFL dealers located in CA, IL, NY, or MA. Additional shipping and handling fees may apply. |
| Age | We will comply with all federal and state purchasing regulations. You must be over 18 years of age to purchase a firearm. You must be 21 years or older to purchase a handgun. |